This article comes from James Roguski (The man who first discovered what the W.H.O. was planning)
(Thank you James for all of your hard work!)
The Biden Administration suffered an absolutely STUNNING DEFEAT in their attempt to amend the International Health Regulations against the will of "We the People"
You will NOT hear about this on mainstream media.
Please watch the videos below to learn what happened on Friday May 27, 2022 at the 75th World Health Assembly…
Here is a brief summary of what happened:
On January 18, 2022, the Biden administration proposed amendments to the International Health Regulations. They did their best to keep them hidden.
On March 31, 2022 I published THIS ARTICLE to shine a bright light on this issue. For the next two months thousands of people helped to spread the word all around the world.
On Friday May 20, 2022 a document filed in a United Kingdom court case revealed that the Working Group on Pandemic Response was "unable to reach consensus" regarding the amendments. The court case did not cause the lack of consensus, but it did reveal it to the public.
On Tuesday May 24, 2022 a new set of REPLACEMENT amendments was submitted to the 75th World Health Assembly in complete violation of Article 55 of the IHR which requires amendments to be submitted at least 4 months prior to the World Health Assembly.
On Friday May 27, 2022 the May 24 REPLACEMENT AMENDMENTS were revised and published by the World Health Organization.
On Friday May 27, 2022 the REVISED REPLACEMENT AMENDMENTS were adopted by the World Health Assembly (see video below).
In my humble opinion, the REVISED REPLACEMENT AMENDMENTS that were approved were absolutely illegitimate. They were merely an empty attempt by the WHO to "save face" in response to the absolutely stunning rejection of the original proposal made by the Biden administration.

The events that occurred in "COMMITTEE A" during the 75th World Health Assembly were filled with intrigue and conflict that was masked by diplomatic politeness.
Please watch the video clips below to see the highlights.
---
SESSION 3 (May 24, 2022)
BOTSWANA: 54:12 – 55:27
IRAN: 1:17:14 – 1:20:03
SOUTH AFRICA: 1:30:22 – 1:31:23
BANGLADESH: 1:44:36 – 1:47:50
NAMIBIA: 2:01:23 – 2:02:17
PRESIDENT CUTTING DISCUSSION SHORT IN ORDER TO ALLOW PHARMACEUTICAL MANUFACTURERS TO SPEAK: 2:26:30 – 2:28:18
---
SESSION 4 (May 24, 2022)
ADOPTING A DIFFERENT RESOLUTION AND CLAPPING LIKE FOOLS 1:17:42 – 1:19:00
INDIA: 1:29:07 – 1:29:59
BRUNEI: 1:45:29 – 1:48:16
RUSSIAN FEDERATION: 2:14:05 – 2:17:04
NON STATE ACTOR: 2:58:55 – 3:00:05
---
SESSION 6:
PRESIDENT OF COMMITTEE A TALKING ABOUT TRANSPARENT EMAIL: 2:33:58 – 2:35:14
---
SESSION 12:
Here's the bizarre ending…
Delegates from a number of African nations spoke out against this blatant attempt at a power grab.
A well placed source shared: "The resolution on IHR amendments was not passed at the World Health Assembly, as African countries were concerned that there was inadequate consultation amongst member states, and the process was being rushed. Botswana read the statement on behalf of the 47 AFRO members and I was personally present."

"The African region shares the view that the process should not be fast tracked…," Moses Keetile, deputy permanent secretary in Botswana's health ministry, told the assembly on Tuesday on behalf of the Africa region.

"We find that they are going too quickly and these sorts of reforms can't be rushed through," said a concerned African delegate in Geneva.
SOURCE:
Take Back Power with Shabnam Palesa Mohamed
Africa objects to US proposal on controversial IHR amendments
Africa Day, 25 May, has made an impact. In a rare show of African power and solidarity, several African member states objected to proposed International Health Regulations amendments, discussed at the World Health Assembly 75 this week – a move many believe might shake up the World Health Organization's dominance…Read more2 days ago · 19 likes · 14 comments · Shabnam Palesa Mohamed
---
The reason I state that the amendments were illegitimate is that they were first submitted on May 24, 2022 in clear violation of Article 55 of the International Health Regulations that clearly state the following:
…the text of any proposed amendment shall be communicated to all States Parties by the Director-General at least four months before the Health Assembly at which it is proposed for consideration.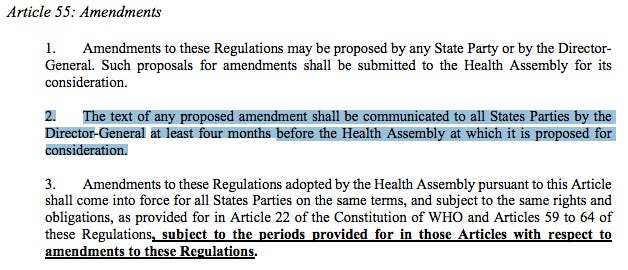 ---
CLICK HERE TO WATCH THE RECORDINGS OF THE ALL OF THE SESSIONS OF THE 75TH WORLD HEALTH ASSEMBLY.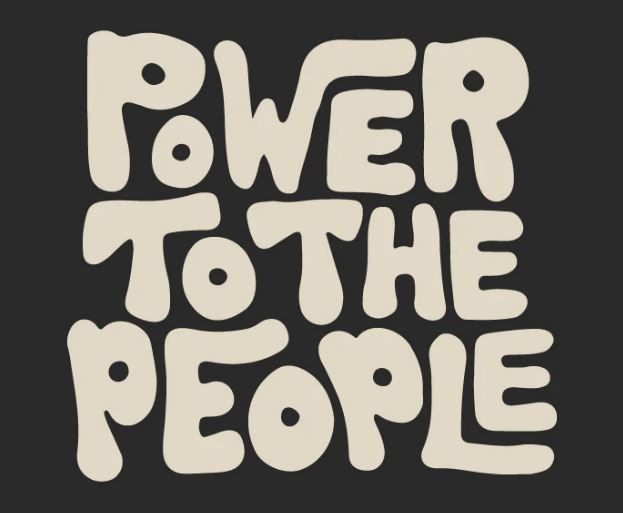 Take the time to celebrate our victory and enjoy yourselves this Memorial Day weekend, but then get back to work.