This article comes from "afinalwarning,com"
Since January 20th, we've known the Biden "presidency" has been completely faked, but we haven't had smoking gun proof of the fakery… until now.
A video, posted by Bloomberg's Quicktake video channel and covered by InfoWars, appears to show Joe Biden walking toward a group of reporters and telling them he has no plans to visit the border.
But the video reveals an obvious video layer compositing error when the hands of the virtual Joe Biden appear in front of microphones which are supposed to be in the foreground of the frame. In video editing, this is a newbie compositing error that results when the video editing person fails to mask out the microphones in the foreground, causing the fake Joe Biden (who is supposed to be several feet away) to seemingly magically have hands that "phase" over the microphones.
The video also has other obvious errors that reveal the fakery:
A rather obvious green screen outline appearing on the edges of Biden's suit jacket sleeves.
A complete failure to generate shadows on the ground underneath Biden, confirming his virtual image is being placed in the scene.
Green hue reflections in his white hair, revealing that Biden (or someone playing him) was filming in front of a green screen.
Here's a closeup showing the green hue reflecting from Biden's white hair. This is a common artifact when people with white hair are filmed in a green screen studio: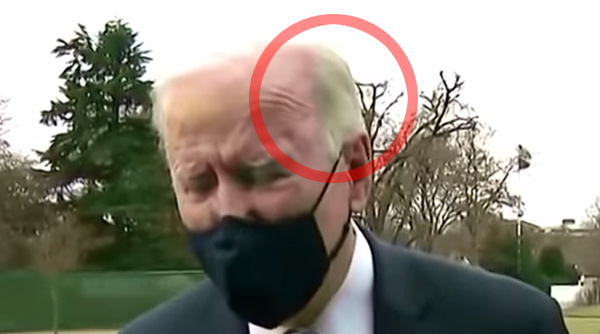 Here is the video, with "Tim Truth" breaking it down and showing more cgi from other incidents.
And there's one more thing that nobody else seems to have noticed: In the left side of the park scene video (onto which the fake Biden character is composited), there is a strange person dressed all in black, wearing a mask and carrying what appears to be a weapon of some kind. Is it a t-shirt cannon? Why is this person wearing all black? Why isn't Secret Service freaking out of this entire scene is supposed to be real?
Here's a close-up of that character dressed in all black: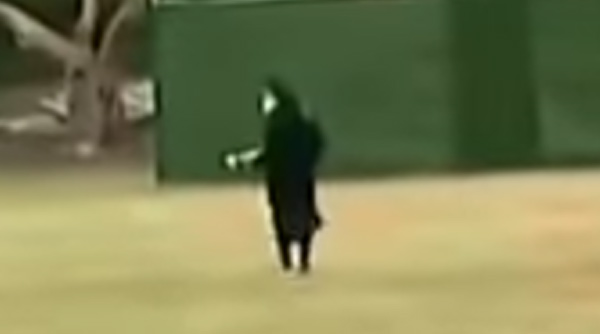 Why is there nobody at the Oval Office when Joe Biden claims to be streaming live from that office? Why is the White House dark in the evening? Why are Kamala and Joe never on the real Air Force One aircraft, and instead use a fake replica piece of junk airplane with decals?
Answer: The Biden presidency is faked. It's all staged, just like the plandemic.