This information comes from "James Roguski"
The FDA has scheduled meetings to consider authorizing the use of Pfizer and Moderna injections in children and infants as young as 6 months. THIS MUST BE STOPPED.
Scroll down the page in order to send emails, make phone calls, submit comments and help spread the word.
PLEASE SHARE THIS LINK WITH EVERYONE YOU KNOW ASAP:
CLICK ON ALL OF THE OPTIONS BELOW TO SEND A MULTITUDE OF EMAILS: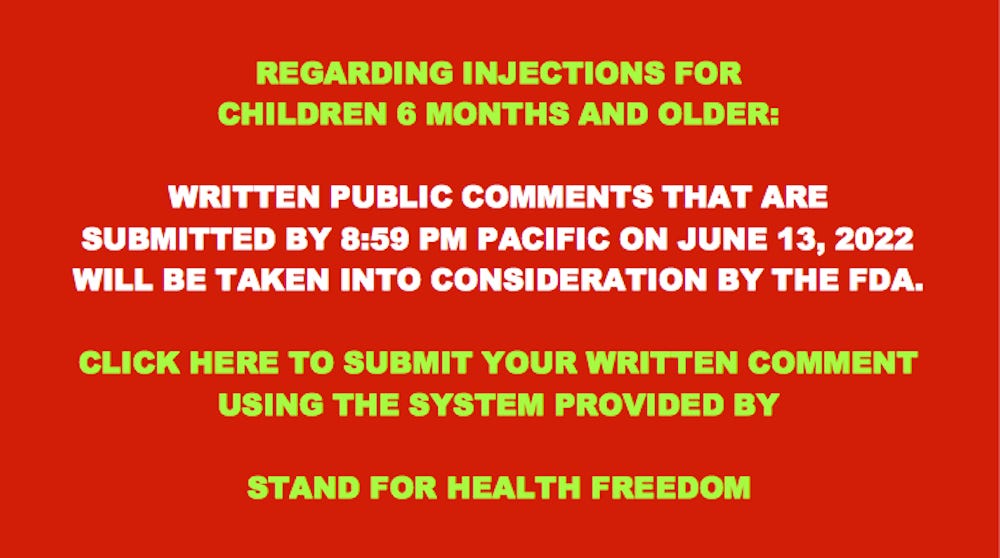 CLICK TO SUBMIT COMMENT BY JUNE 13, 2022: https://www.federalregister.gov/documents/2022/05/31/2022-11669/vaccines-and-related-biological-products-advisory-committee-notice-of-meeting-establishment-of-a#open-comment
NOTE: When you click on the image above, sometimes a popup appears that seems to state that the comment submission form is not available. IGNORE the popup. Just close the popup and submit your comment. It seems to be just another mental hurdle to avoid.

NOTE 2: The form has a drop down menu that appears to be blank on some browsers. For most people, the most appropriate choice seems to be "individual consumer," but you should choose whichever option seems best for you.
TAKE ACTION
Click on each of the images below and take as many of the following actions as you possibly can !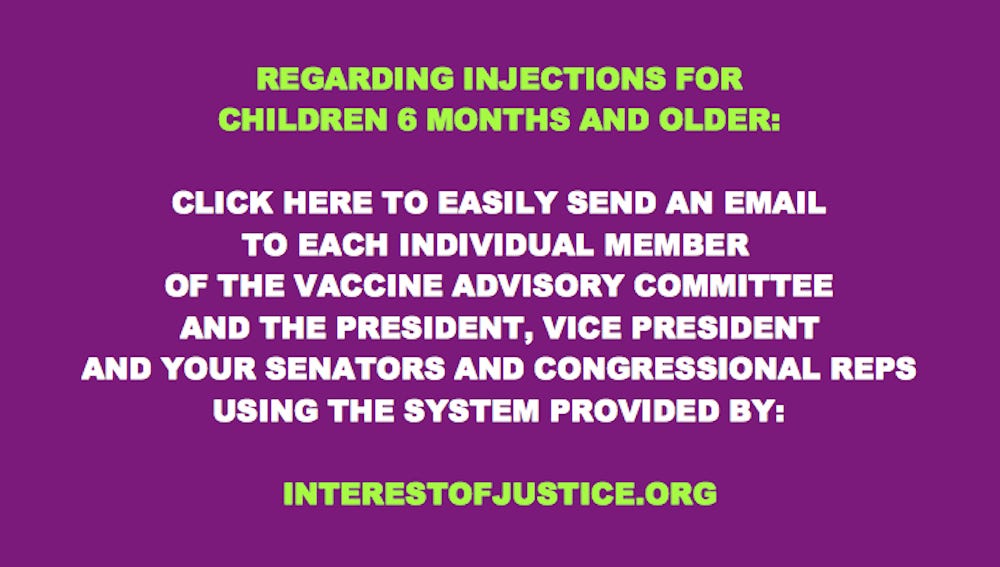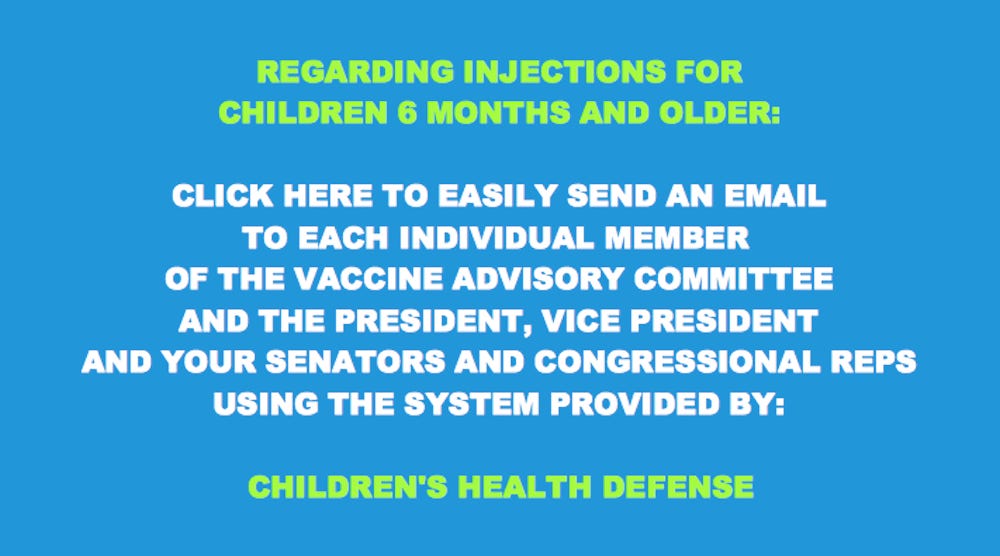 Contact the people listed below and share your personalized opinion with them A.S.A.P. Please feel free to use your own words. The text below are merely a suggested starting point.
SAMPLE EMAIL:
Follow the Science, Children DO NOT need the COVID vaccine!
To the members of the advisory committees and the employees of the FDA and the CDC:

DON'T YOU DARE ADVISE THE FDA OR CDC TO APPROVE THESE INJECTIONS!

There is absolutely NO VALID REASON to approve either the Pfizer-BioNTech or Moderna injections for use in infants and children from 6 months to 5-6 years of age.

Children from 6 months to 6 years old do not die from COVID-19. Young children and babies DO NOT need the COVID shots!

Babies and young children are NOT at risk of serious complications or death from COVID.

However, they ARE at risk from injury and even death from COVID vaccines.

Subjecting babies and children to experimental injections with extraordinarily high rates of adverse events such as cardiomyopathy, vasculopathies, neuropathies and more, against a "disease" that poses virtually no risk to the proposed recipients is horrifyingly bad public policy and constitutes willfully negligent medicine.

World-wide experience with these deeply flawed injections clearly shows that they do not prevent transmission or infection. In fact, these shots predispose the recipients to clinical illness.

Cataclysmic immediate and medium-term damage is a frequent consequence of these injections in persons with mature immune systems.

Authorizing their use in babies and toddlers is unconscionable, especially given that the threat due to COVID and its variants is virtually non-existent.

Abundant evidence shows that COVID poses nearly zero risk to this age group:

Data from England and Wales, published by the UK Office of National Statistics on January 17, 2022, revealed that throughout 2020 and 2021, only one child under the age of 5, without comorbidities, died from COVID in the two countries, whose total population is 60 million.

– A large study conducted in Germany showed zero deaths for children 5-11 and a case fatality rate of three out of a million in children without comorbidities.

– Another study in Nature from April 2021, suggests children's bodies clear the virus more easily than adults.

– A study published in December in Nature demonstrated how children efficiently mount effective, robust and sustained immune responses to COVID.

WE ARE ALL VERY MUCH AWARE that the risk of serious disease or death due to COVID-19 is practically ZERO in children from 6 months to 6 years of age (and up).

To recommend the authorization of the use of these products when they can only cause harm would be a blatantly unscientific and unethical act on your part.

Use of proxy markers to imitate effectiveness rather than actual disease outcomes is not a valid reason to authorize these products.

The trials are underpowered and cannot possibly identify rare but serious risks.

To even consider further exposure to this very risky injection among the infants and young children of this nation is unconscionable. I urge you to do everything in your power to halt any further discussion of granting EUA status to this age group.

Please be advised that your actions during the upcoming advisory committee meetings will be viewed by millions of Americans, and also by millions of additional concerned people around the world.

YOU KNOW THIS, AND WE KNOW THAT YOU KNOW THIS.

The job of the FDA is to protect us, not to pose avoidable and unnecessary threats to us for reasons having nothing at all to do with our health.
If you vote to authorize for emergency use either the Pfizer-BioNTech or Moderna injections for use during the upcoming meetings on June 14-15, 2022, HISTORY WILL HOLD YOU PERSONALLY RESPONSIBLE FOR HEINOUS CRIMES AGAINST HUMANITY.

Instead, I invite you to stand up against the forces of the medical, hospital, pharmaceutical, educational, industrial and media complex.

I invite you to look in the mirror and examine your heart and soul. I trust that you will find the inherent humanity that will guide you to make the right decision, which is clearly to reject the very notion of these injections.

I invite you to be courageous.

I will welcome you as a hero if only you will listen to the will of We the People and wisely reject the requests made by Pfizer-BioNTech and Moderna.
---
EMAILS:
Xavier.Becerra@HHS.gov
CBERVRBPAC@fda.hhs.gov
fdaoma@fda.hhs.gov
hagans@stanford.edu
adam.berger@nih.gov
Archana.Chatterjee@RosalindFranklin.edu
acohn@cdc.gov
hjanes@fredhutch.org
david.kim@hhs.gov
jportnoy@cmh.edu
gcsylvester@gmail.com
acip@cdc.gov
archana.chatterjee@rosalindfranklin.edu
cmeissner@tuftsmedicalcenter.org
---
MAKE SOME PHONE CALLS
PUBLICLY AVAILABLE CONTACT INFO (PHONE NUMBERS):
All of the contact information below is readily available at the link below…
https://www.fda.gov/advisory-committees/vaccines-and-related-biological-products-advisory-committee/roster-vaccines-and-related-biological-products-advisory-committee
Hayley Gans, M.D. Department of Pediatrics, Division of Pediatric Infectious Diseases Stanford University Medical Center, Stanford, CA 94305-5208 Fax: (650) 725-8040 Email: hagans@stanford.edu PHONE: (650) 723-5682
Adam C.Berger, PhD 6705 Rockledge Drive, Suite 630 Bethesda, MD 20892 EMAIL: adam.berger@nih.gov PHONE: 301-827-9676
Archana Chatterjee, M.D., Ph.D. Dean Chicago Medical School 3333 Green Bay Road North Chicago, IL 60064 FAX: 847-578-3345 Email: Archana.Chatterjee@RosalindFranklin.edu PHONE: 847-578-3301
CAPT Amanda Cohn National Center for Immunization and Respiratory Diseases Centers for Disease Control and Prevention 1600 Clifton Rd, Atlanta, GA 30333 MS C-09 E-mail: acohn@cdc.gov PHONE: (404) 639-6039
Holly Janes, Ph.D. Fred Hutchinson Cancer Research Center Vaccine and Infectious Disease Division 1100 Fairview Avenue North, M2-C200 P.O. Box 19024 Seattle, Washington 98109 E-mail: hjanes@fredhutch.org PHONE: 206-6676353
David Kim, MD CAPT, U.S. Public Health Service Vaccine Program Office of Infectious Disease and HIV/AIDS Policy Office of the Assistant Secretary for Health U.S. Department of Health and Human Services 330 C Street SW, Suite L600 Washington, DC 20024 Email david.kim@hhs.gov Main (202) 795-7697 PHONE (202) 795-7636
Jay M. Portnoy, MD Director, Division of Allergy, Asthma & Immunology Children's Mercy Hospitals & Clinics 2401 Gillham Road Kansas City, MO 64108 EMAIL: jportnoy@cmh.edu FAX: (816) 960-8888 PHONE: (816) 960-8885
Andrea (Andi) L. Shane, MD MPH MSc Emory University School of Medicine 2015 Uppergate Drive NE, Rm. 504A Atlanta, GA 30322 EMAIL: ashane@emory.edu FAX: 404-727-8249 MAIN: 404-727-5642 PHONE: 404-727-9880
Gregg C. Sylvester, MD, MPH Head of Medical Affairs for Seqirus 470 Burnt Mill Road Wilmington, DE 19807 EMAIL: gcsylvester@gmail.com MOBILE: 302-272-0653
I have been unable to find contact information for the following VRBPAC members. Your help will be much appreciated. Post publicly available contact information ONLY in the comment section.
Henry H. Bernstein, D.O., MHCM, FAAP
---
FDA Contact Information:
Prabhakara Atreya: 240-506-4946
Sussan Paydar: CBERVRBPAC@fda.hhs.gov
FDA Advisory Committee Information Line:
1-800-741-8138 or 301-443-0572
For press inquiries, please contact the Office of Media Affairs at fdaoma@fda.hhs.gov or 301-796-4540
Please watch these videos and take the appropriate actions…