This article comes from "infowars.com"
'Rules for thee but not for me' has become the de facto Democrat motto.
Georgia gubernatorial loser Stacy Abrams (D) deleted a photo of herself sitting unmasked while surrounded by dozens of masked school children.
The photograph of Abrams smiling while surrounded by uncomfortable masked students was taken at Glennwood School in Atlanta and posted to Twitter by principal Dr. Holly Brookins on Friday.
"Extraordinary way to kick off the 3rd annual African-American Read-in at Glennwood and Black History Month," the principal wrote.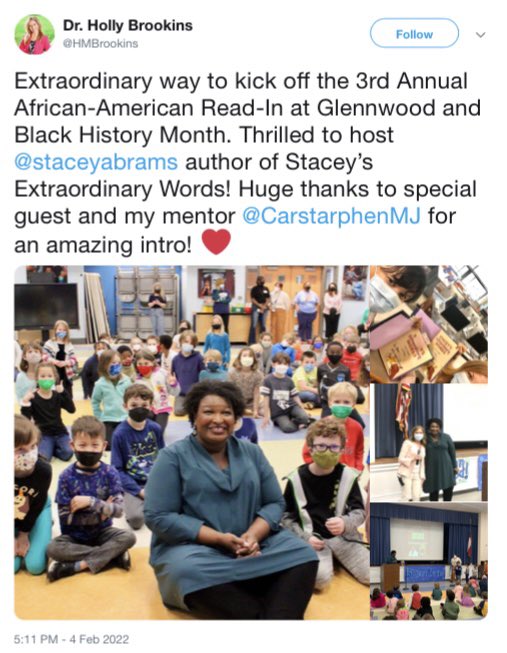 Abrams had retweeted the photo and wrote: "Spending time with Glennwood's amazing students, faculty and staff ranks as spectacular, delightful and outstanding."
But Abrams and Brookins deleted their respective tweets after receiving well-deserved backlash on social media.
Brookins not only deleted her tweet, but her entire Twitter account following the backlash.
The photo also didn't appear to be a one-off, as other photos from Abrams' visit showed her not wearing a mask despite the school imposing a mask mandate on everyone else.
This is par for the course with Democrat hypocrites, who routinely flout rules they impose on everyone else.
For example, Gov. Gavin Newsom (D) was recently photographed without a mask at a football game despite imposing a statewide mask mandate.
Los Angeles Mayor Eric Garcetti (D) was also recently caught flouting mask rules, and when confronted about it, claimed he was "holding his breath" while the mask was off.
And last August, House Speaker and mask fanatic Nancy Pelosi (D-Calif.) held a fundraiser where she and all her attendees didn't wear masks — except the servants, of course.
"Rules for thee but not for me!" has become the new Democrat motto.